by Vijaya Durga Ram
Regardless of shape, size or style…a saree looks great on every woman.
We have seen a huge lifestyle shift and culture change, where we accepted the western wardrobe graciously and have made tremendous advancement towards experimenting pretty much all the styles we see on the international magazine and yet, a SAREE somehow always fits in, stays perfectly in trend and will always do.
Through different generations, it has been worn in so many different styles.
And, I would say, that's the best part! Let's get creative and add in a streak of our own style to the blouses! 
A saree is the trendiest wear for girls! It looks more comfortable and stylish for women. However, the blouse is what makes or the breaks the perfect saree look. It's is the vital element of the saree look. Every year we are blessed with new saree blouse designs. Here, we have a shirt blouse that is draped with an indigo-dyed saree. The abstract elements on the blouse makes it trendier as by combining both traditional and fusion elements. 
Here are some of the looks that I found really interesting!
Pradaini Surva, 
fashion model.
A Sheath turtleneck top, with an illusion neckline that just grabs the look of this simple and elegant cotton saree to the next level. The waist belt and the shoes add an extra fusion vibe to the look!
You Need To Check Out Sabyasachi's New Collection Which Is Perfect For Summer Brides!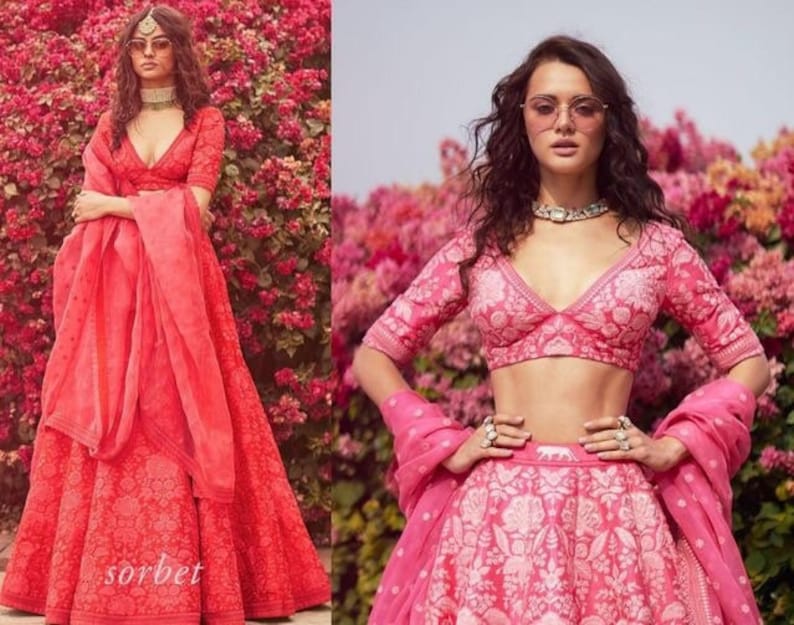 Sabyasachi's  Fiza – Spring Summer 2019 collection has made us go wowww! Everything from the silhouettes to the cuts, created over a series of adorable colour palettes, left us in awe! The exquisite jewellery, flowy embroidered fabrics and the strikingly shot collection have us glued to his Instagram profile, as he updated one post after another. We also noticed a freshness in styling and also, instead of going heavy on jewellery he switched to dainty but timeless pieces, super apt for summers. Is that an inception of a new trend?!  Whatever it may be, but it literally melted our weak hearts.
Y
ami
G
autham,Actor.
Indigo dyed Indo-western saree with a mustard embroidered shrug!

T
aapse
P
annu,Actor.
Taapse Pannu at one her recent movie promotions, wore a thin striped shirt blouse and saree. It came off too strong on her and I just found it overwhelming!
The tie and the bindi just make it look effortlessly stylish yet traditional!